COVID-19 Updates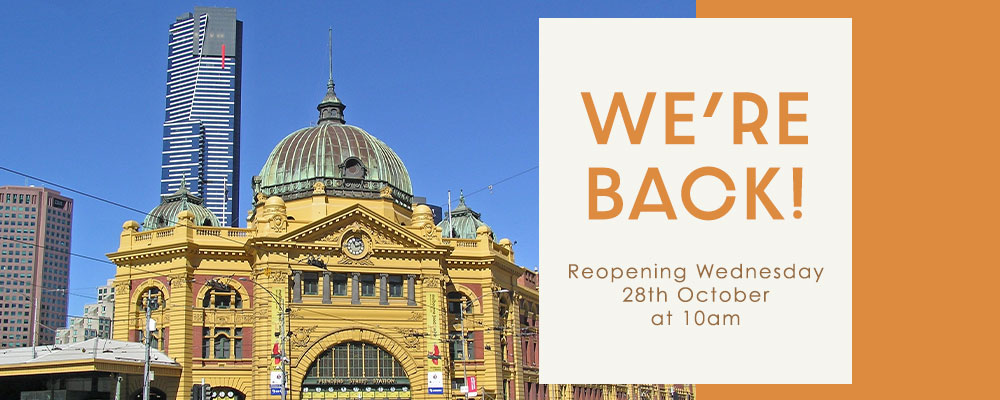 WE'RE BACK!
Reopening Wednesday 28th October at 10am.

We are so excited to welcome you all back in-store! We've had lots of new stock arrive. A fresh new collection of spring styles is here, ready to go.

Please keep an eye on our socials for further updates, as we navigate reopening. Masks & social distancing will be compulsory in-store, so please follow signage and the staff's requests when you come to visit.

We will continue to update our website with new arrivals, as there's still more to come.

Our current step 3 opening hours are:

Monday-Saturday, 9am to 5pm

Looking forward to seeing you all soon!

- Rosenbergs Team

Please follow us on Instagram, Facebook or Twitter for the most up to date information.
If you are having trouble with the online service, have queries about stock, sizing, fit or comfort, you can send us an email at info@rosenbergshoes.com and we will respond as soon as we can.
POSTAGE:
Australia Post regrets to inform customers that due to reductions in air freight capacity, there will be delays in parcels deliveries, particularly to regional and rural communities.
Australia Post is exploring all available transport alternatives and options and working with the Australian Government, to minimise resulting impacts for customers.
We will continue to process orders as per usual and all orders are tracked.
If you have any concerns, please contact the store directly via email or phone during business hours.
Updated 14/11/2020